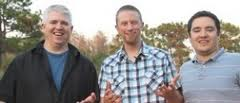 These guys claim to be real life internet marketers who are bucking the system by shunning the "push button" trend. Wait, that can't be true, most internet marketers are selling the "push button system", I thought it was required. I shouldn't say all because I did receive an email yesterday from one of the "Big Guys" and there was no magic button. However the cost of the one system he was offering was sky high. Most likely worth it but sky high non the less.
Ok, so Real Guys Real Money is presented by Eric Holmlund, Paul Counts and Jeff Wellman. Each claim to be very successful internet marketers with each having different income streams. The one thing they do in common to make money online is to market information products. And the one they say they are having alot of success with is the How To Make Money Online niche.
When most of the "Guru's" are saying to avoid this niche because of over saturation, The Real Guys say go for it. They do agree that the niche is saturated-but-with alot of, lets say unethical characters. Meaning there is a real need for good, honest and ethical marketers to teach this Make Money Online niche. They go on to say that a competitive niche is obviously a profitable niche and lends itself to well to providing education.
They believe the Make Money Online niche will always be in demand. Most people want to make more money but really have no idea how to do it, other than work more hours at what they are currently doing.
This course is basically a big PLR package. PLR means private label rights. When you purchase a PLR package you get to "make it your own" and resell it. So not only can you promote this product you can sell it as well. That means you can get 100% of the sale.
The Real Guys offer in this package one of the top online income strategies of list building. Learning how to build a list is invaluable when it comes to marketing. No list really equals very limited or no sales. Included are videos, power points, sales pages, thank you pages, high converting squeeze pages templates designed for list building.
The cost of all this is $37. Of course as I've said in the past when you buy a product that says it offers so much and sells for so little you can expect upsells.
The upsell for this package includes upgraded sales pages with 5 different versions, an additional course on video marketing secrets and a 412 page ebook. Sales pages, power points, thank you pages etc….. accompany the upgraded material as well.
The upgrades are also PLR products as well.
The one time offer upsell costs $97 however if you choose not to get it you are then offered a reduced upgraded package that does not include the extra sales pages or the PLR video marketing course at a cost of $39.
In watching the sales video these guys seem genuine and if the product delivers what they say, it's well worth the price.
MATERIAL CONNECTION DISCLOSURE: You should
assume that the author of this article has an affiliate
relationship and/or another material connection to the
providers of goods and services mentioned in this article
and may be compensated when you purchase from mentioned
provider.
You should always perform due diligence before buying
goods or services from anyone via the Internet or offline.