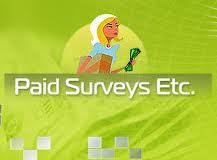 Paid Surveys Etc is a work at home business that revolves around taking surveys. From my understanding the role of Paid Surveys Etc is to connect you with companies that want your opinion on products or services.
The cost to join this program is $69 however I see there is a 50% off coupon you can apply to your purchase. All the reviews say there is a monthly fee to remain in the program after the initial investment although I didn't see that on the sales page. They do offer a 100% money back guarantee.
The word on the street isn't all that great for Paid Surveys Etc. I've looked long and hard and didn't come up with any two thumbs up kind of opinions. The best I could find were "yes I'm making money" but mainly in reference to pocket change. Not the kind of money you think of when you hear work from home business.
In general there is a negative tone associated with most paid survey sites. The biggest thing I'm finding is people saying that you shouldn't have to pay someone to work for them. And that may seem right in principle but I challenge anyone to find an MLM company that doesn't have a monthly commitment to maintain if you expect to build any kind of business and receive any commissions.
Take Melaleuca for example, ok technically they consider themselves a consumer direct company, they have two levels of commitment. Of course there is no monthly commitment if you want to be a customer only. But at the first leadership level they expect you to maintain a 35 bonus point per month commitment and that equates to about $58. The next level of leadership commitment is 75 bonus points and that equates to about $110 per month. On top of the monthly product purchase you have to maintain a certain amount of personal and organizational downline to stay in the money pool.
Personally I think Melaleuca is a top notch company with 20 plus years of growth and strong leadership.
They don't call it paying the company to work for them but isn't it kind of the same thing?
In my opinion this is a buyer beware opportunity. If you feel strongly about giving it a try it might be just what you're looking for. But like any other purchase don't be afraid to ask for a refund if it's warranted.
MATERIAL CONNECTION DISCLOSURE: You should assume that the author of this article has an affiliate
relationship and/or another material connection to the providers of goods and services mentioned in this article
and may be compensated when you purchase from mentioned provider.
You should always perform due diligence before buying goods or services from anyone via the Internet or offline.