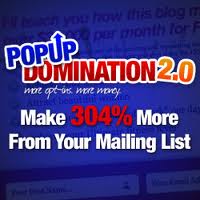 Popup Domination is a software tool that allows you to place a popup lightbox opt in form on your website or blog. An opt in form is a way to capture a visitors information. Popup lightboxes are generally regarded as more effective at capturing visitor information than a static optin form residing on one of your website pages. Why, you may ask. In advertising or internet marketing it's all about creating interference. You may also be asking yourself; why would I want to interfere with someone who's visiting my website. The short answer is because it's really really effective. And here's a good rule of thumb when it comes to internet marketing, if no one else is doing it, it's probably not worth doing. Popup optin forms are used a bunch.
There are many popup optin forms to pick from so here's what Popup Domination has to offer.
7 themes
15 different colors options
works with any mailing list provider
page selection
can be used as an exit popup
has an impression counter
As you can see in the above description Popup Domination gives you more that what you can get by using the standard Aweber or GetResponse offerings.
Here is a screen shot of a Popup Domination popup lightbox: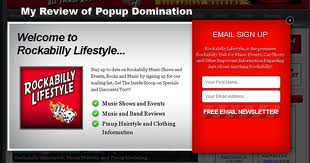 One thing I like is the option to select what page the popup appears on.
I also like the fact that Popup Domination can remember who your visitors are so they aren't subjected to the same popup appearing everytime they return to your site.
With the purchase you receive:
Popup Domination Word Press plugin
Popup Domination stand alone (integrates with any system)
Email Domination System
PSD source files
FYI, a PSD file is one that is relevant to Adobe's Photo Shop. PSD = Photo Shop Document. I didn't know so I thought I'd look it up.
The asking price for this is $47.
The word on the street is this is a tool you should have. No negative comments found. I did see a couple of comments about Popup Domination not working with IE8 but that was only from one source and ended up being a non issue.
To review, if your in internet marketing or network marketing you need to have an optin form and the most effective type is the popup lightbox.
For $47 I think it's a good deal and comes with a 60 day money back guarantee.
MATERIAL CONNECTION DISCLOSURE: You should assume that the author of this article has an affiliate
relationship and/or another material connection to the providers of goods and services mentioned in this article
and may be compensated when you purchase from mentioned provider.
You should always perform due diligence before buying goods or services from anyone via the Internet or offline.