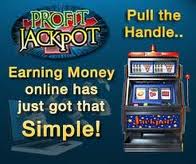 This recently released software created by Anik Singal can be bought through Clickbank or one of the many affiliates promoting it. You should have no trouble finding this as Profit Jackpot is currently leading the list at CB-analytics in the area of top gravity gain.
At the beginning of the sales video Anik Singal is very adamant about the concept of push button wealth being nothing more than an illusion. That making money online takes time and diligence. And although he rejects the push button overnite wealth theory he believes that automation is a key element to building an online business.
What do "The Real Guys" think about push button wealth?
That's what Profit Jackpot is about, automation. The big selling point is creating 10 blogs in 10 minutes. That sounds all well and good but you might be asking where does the content for these blogs come from? The content comes from the automation part of Profit Jackpot. To my understanding this works using the principles of auto blogging. In other words either the software or a plug in that's integrated in the blog setup searches for content related to the niche the blog is created around. The content is then imported into the blog meaning you don't have to create the content just have Profit Jackpot find it and display it on the blog.
The basic cost for this product is just shy of $50 and with the upsells you could spend in the neighborhood of just a bit over $500.
So what's the word on the street about Profit Jackpot? Well Anik says this is not a get rich quick push button method and that seems to ring true. I can say that it's being promoted in a big way but in my opinion that's because of the prizes being given away to the top affiliates and has nothing to do with the effectiveness of the software itself. In all fairness the same could be said about any new product being released.
One thing I'm hearing that a lot of marketers don't like is that Profit Jackpot will not integrate at all with GoDaddy or Hostgator. These are two of the main sites marketers go to when purchasing domains and hosting. There are certainly many other options out there for domains and hosting but GoDaddy and Hostgator are the ones you seem to hear the most about.  There has also been some examples given where the content being drawn in isn't really relevant at all to the intended blog.
Interntet Marketing 101: website + targeted traffic = income
Like most other products in this entry level price range, expect to get what you pay for. It appears the upsells are kind of important to Profit Jackpot especially if you are new to marketing. The intermediate and above marketers will likely already have similar tools or the know how in their arsenal to make Profit Jackpot work.
Anik Singal is a very experienced and successful marketer and I think he's a good guy to follow for internet marketing knowledge.
Because Profit Jackpot is purchased through Clickbank you'll have no problem getting a refund if you do purchase this software and end up not liking it.
MATERIAL CONNECTION DISCLOSURE: You should assume that the author of this article has an affiliate
relationship and/or another material connection to the providers of goods and services mentioned in this article
and may be compensated when you purchase from mentioned provider.
You should always perform due diligence before buying goods or services from anyone via the Internet or offline.